1. Yosemite Falls Trail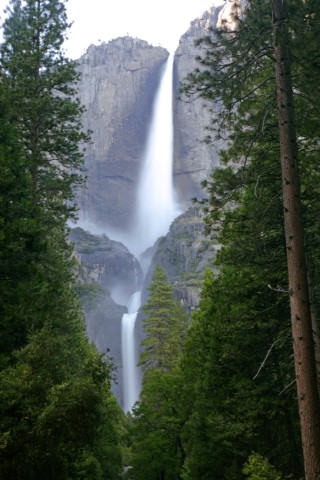 No trip to Yosemite is quite complete without a visit to 
Yosemite Falls Trail
. This 7.2 mile round trip trail takes you to the top of North America's tallest waterfall. This hike takes many people between 6 to 8 hours total, on a trail that gains nearly 3,000 feet in elevation. Along the way, you'll see Columbia rock, Half Dome, Sentinel Rock and Upper Yosemite Falls. This is a strenuous walk that's not for the inexperienced hiker. Be sure to bring plenty of water and your most comfortable hiking shoes.
2. Mist Trail
Sometimes called the quintessential Yosemite experience, the Mist trail is a signature hike that gets you up close and personal with some of Yosemite's most beautiful waterfalls. Mist trail takes you to the Nevada Fall, Vernal Fall, or all the way to the top of Half Dome. The trail also includes intermediate destinations where you can turn around for a shorter hiking experience. Mist trail may be so named because it takes you close enough to waterfalls that you can feel the mist, but there are other opportunities for pictures too. The best time of year for this trail is in spring and early summer. Start in the early morning.
3. Tunnel View
Of all the things to do in Yosemite, this is one you shouldn't miss. Perhaps one of the most iconic views of the park is the Tunnel View, where visitors can see Bridalveil Fall on the right, El Capitan on the left, and Half Dome in the distance. Tunnel View shows the drama and beauty that really draws people to Yosemite. This is also a spot that you can easily visit by car. Simply head down the highway toward Yosemite West, and you'll reach it. The granite walls of Tunnel View shimmer in the afternoon sunlight, but morning shows the granite walls in silhouette, so you can pick the time of day that seems just right to you.
4. The Ahwahnee
This beautiful hotel is known for its premium dining experience (requires proper attire) and beautiful architecture called "National Park Service Rustic". You can wander the Ahwahnee grounds where you'll see stunning wildlife, and enjoy a comfortable, climate-controlled hotel interior where you can relax at the end of a long day. The red elevator in the hotel is said to have inspired Stanley Kubrick when he made The Shining.
5. Skydive Yosemite
Thrill seekers come one come all for the chance of a lifetime! Skydive Yosemite will take you to all new heights where you'll see the El Capitan, Half Dome and Yosemite Valley from 10,000 feet (or more). When the time is right, you'll jump out of the plane and free fall with views of the mountains, landing very close to where you started, just outside the park. For an extra fee, you can get pictures or video of the entire experience.
6. Glacier Point
Glacier Point is a high overlook approximately 3,200 feet above the valley floor. At Glacier Point, you can enjoy views of Yosemite Falls, Half Dome and the High Sierra. From Glacier Point, you can almost see Half Dome at eye level. Glacier Point is also a starting point for several difficult hikes, so if you're at Yosemite for the hiking, you won't want to miss this. The road that leads to Glacier Point closes frequently due to snow – even in summer months. Check ahead of time before making the trek this way.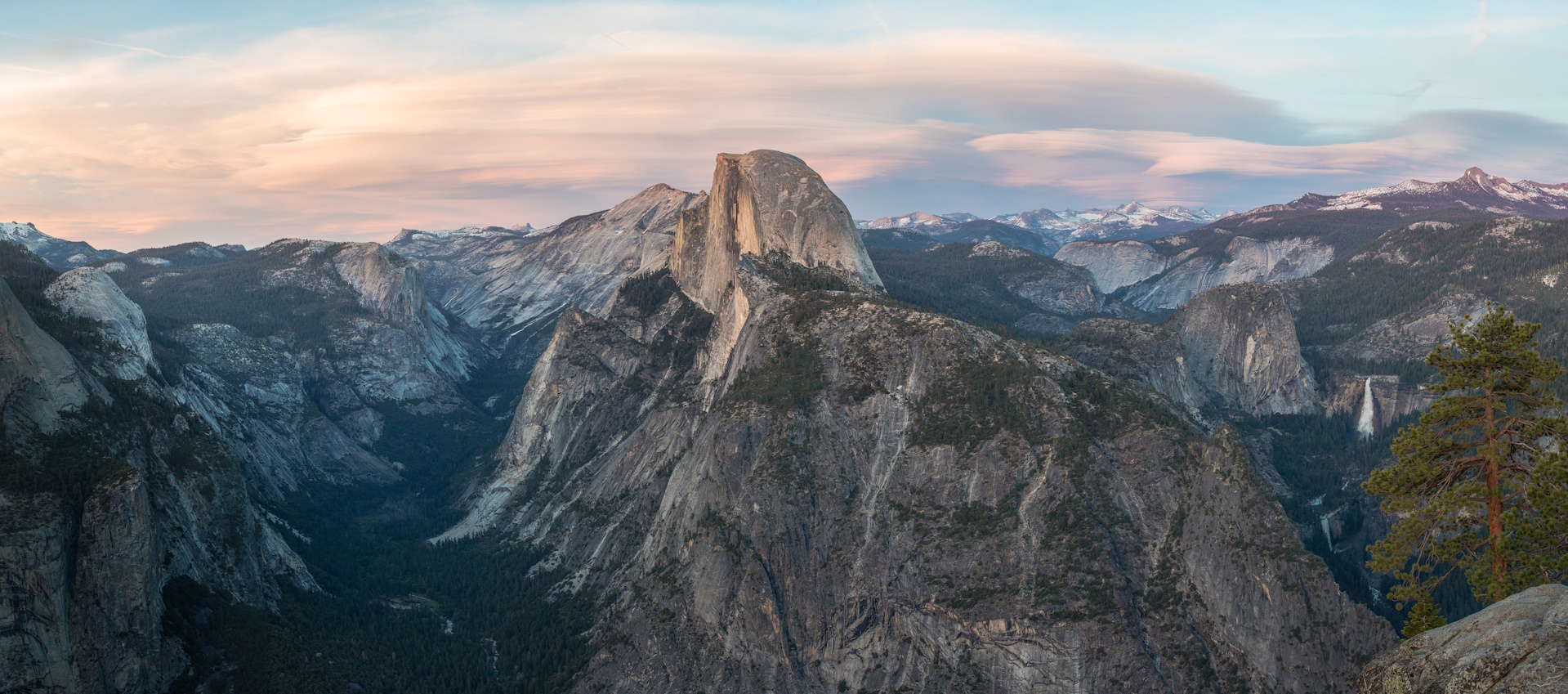 7. Mariposa Grove
About 500 mature sequoias live in Yosemite's Mariposa Grove. These giant trees stand tall, their stunning size looming over the people who come visit them. Mariposa Grove is part of the reason that Yosemite exists today, because Abraham Lincoln wanted to set aside Mariposa Grove and Yosemite Valley for the public to come see and enjoy. Abraham Lincoln knew there was something worth visiting back then, and it's still a magnificent thing to see today.
8. Tenaya Lodge
Located outside the park in the tiny town of Fish Camp, Tenaya Lodge has multiple restaurants including pizza, barbecue, a deli and a bar and grill. The lodge is sometimes host to live music, and is available for rent for events, where you can take advantage of the lodge's catering service. You'll enjoy staying in cabins and can take part in events like the flashlight hike, where you'll go on a guided hike to listen to the nocturnal animals.
9. Tenaya Lake
Tenaya Lake is the largest lake at Yosemite and is a popular destination for kayakers, swimmers and people who enjoy paddleboarding. The lake is bordered by sandy banks that make this a perfect destination for people who enjoy sunbathing. There is no renting, so you'll need to bring your own non-motorized equipment. If you enjoy fishing and have a valid California fishing license, then bring your fishing line as well.
10. Yosemite Trails Horseback Adventures
Yosemite Trails Horseback Adventures offers horseback trail rides for one or two hours. They're an excellent opportunity for the family to engage with nature and ride a magnificent animal. You can also take the 5-hour round-trip ride to a 2,000-year-old redwood tree known as Grizzly Giant. Each horse is well-trained and experienced on these trails, so even less comfortable riders are welcome on shorter excursions. You'll get a hands-on lesson in horseback riding before going on your trail.
11. See the Sierra Nevada Bighorn Sheep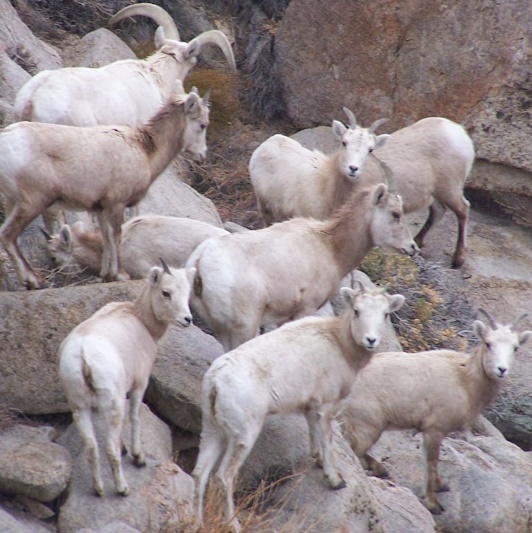 Visit the Cathedral Range, and you may see one of the Sierra Nevada bighorn sheep that live in Yosemite. Once an abundant part of the park, the Sierra Nevada bighorn sheep were gone from the area just 25 years after the park was established. The National Park Service and the California Department of Fish and Wildlife would eventually help restore the populations of bighorn sheep to the mountain range, and there are now three herds in the area. Visiting Tuolumne Meadows may offer you a glimpse of these majestic animals.
12. Happy Isles Art and Nature Center
Looking for things to do in Yosemite that involve natural history exhibits, art workshops, and interactive displays? The Happy Isles Art and Nature Center is a family-friendly space where adults and kids can all find something to do. It's always a great day for learning at Happy Isles. Outside, short trails take the kids on a walk that's appropriate for little ones. You'll also get a chance to see the remains of a rockfall that sent 90,000 tons of rock falling form Glacier Point cliff to the valley floor, knocking over hundreds of trees. This center is open from April to October, so plan your visit accordingly.
13. Bridalveil Fall
Bridalveil Fall is one of the most famous sights in Yosemite, and in spring it's especially impressive. This is one of the first sights that you'll see when you enter Yosemite, and the trail to the fall is open year round. People walking the trail often get wet in spring and early summer, so be prepared! In fact, the spray can be so strong that at times, it's hard to access the end of the trail. In winter, Bridalveil Fall trail is slippery and treacherous, so be careful. Don't want to walk the trail? Bridalveil Fall Viewpoint is easy to reach, and from there, you'll get a good view of the fall.
14. Hetch Hetchy Valley
Hetch Hetchy Valley is a glacial valley located in the northwest corner of the park, featuring a large reservoir, waterfalls, fishing and hiking. There is no swimming or boating in the reservoir because the water is on its way to deliver clean drinking water to San Francisco, but the Hetch Hetchy Valley is still a lovely space to visit for some peace and quiet away from the more populated parts of the park. Many people skip Hetch Hetchy Valley, so it's one of the few places you can go for a truly serene afternoon.
15. Yosemite Health Spa
The Yosemite Health Spa is a rustic resort just outside the park. Visitors can enjoy a massage, enjoy a herbal steep bath, do yoga and enjoy the hot rocks sauna. The spa has its own garden deck that overlooks the valley below. In other words, you can take a break from the endless hiking and nature-viewing of Yosemite to enjoy the luxury of self-care.
16. Half Dome
For most visitors to the park, Half Dome is something that is only seen. Some visitors, however, actually climb to the top of Half Dome. The giant rock formation is one of the most famous and iconic structures in the park. At the top, hikers stand at 8,800 feet above sea level. Climbing to the top of Half Dome takes about 12 hours round trip and in the steepest part of the climb, metal cables are provided to help hikers pull themselves up to the top. Permits are required to do the climb, and the hike is only open from May through mid-October, so plan ahead.
17. Golden Crown Mine Hike
Yosemite National Park was founded by an act of Congress in 1890, but before that happened, the park was a site for silver mining. The Golden Crown Mine operated at 11,000 feet elevation from 1879 to 1890, and today you can hike to the Golden Crown Mine complex where you can see several log cabins in varying states of decay. The park encourages people to make this strenuous hike as it helps educate visitors about the history of extractive industries in the area. This is a challenging and rewarding hike for those who enjoy such activities.
18. Indian Village of the Ahwahnee
Yosemite Valley originally belonged to the Miwok people, and that land was taken from them through violence. In the 1920's, a recreation Ahwahnee village of the Miwok people was built to allow visitors to see and understand how the Miwok people constructed their homes from bark of fallen trees. The village includes a sweathouse, chief's house and the ceremonial roundhouse, which was built in 1992. These structures and others provide insight into the culture and community of the Miwok people.
19. Yosemite Falls
Yosemite Falls is actually three waterfalls, but when combined, they make up one of the tallest waterfalls in the world. Just walking the one-mile trail at the base of the falls gets you a beautiful view, but you can also go see Yosemite falls without hiking any trails. Simply driving through the valley, you'll see it repeatedly. There are many opportunities to pull over and see Yosemite falls from viewing points, so be on the lookout. If you plan to hike to the crest of Upper Yosemite, you'll need to have a lot of hiking gear and should go with an accredited guide.
20. El Capitan
El Capitan is a dramatic rock formation that stands 3,000 feet above the valley floor. That's 2.5 times taller than the Empire State Building and 3 times taller than the Eiffel Tower! The El Capitan Trail is for more experienced hikers and takes about 8 to 10 hours, but this trail is not for you unless you're a very confident and experienced hiker. You can also see El Capitan without ever heading up a trail. If you want to see El Capitan from the road, just stop at Tunnel View and you'll have a wondrous experience. You can also see El Capitan from El Capitan Meadow.
21. Tuolumne Meadows
This dreamy space is the place to be for peace and relaxation. Nestled near the Tuolumne River, the Tuolumne Meadows includes miles of beautiful wildflower blooms and views of Lembert Dome, Pothole Dome and Cathedral Peak. The best time to come to Tuolumne Meadows is in spring just as the flowers are starting to bloom, but any time of year is a good one to see this lovely meadow up close and personal. You won't believe how magical and lush this meadow is. Bring your camera.
22. Cathedral Peak
Cathedral Peak is a stunning granite peak formed by glaciers thousands of years ago. Only seasoned climbers can reach the top of this mountain, but it can be done. This peak was first climbed by John Muir in 1869, but has been climbed many times since then. If you're up for the challenge and know what you're doing, you may be able to climb Cathedral Peak yourself. If you're not a climber but still want to experience some of this peak for yourself, follow the trails to Lower Cathedral Lake and enjoy the beautiful views!
23. Taft Point
Taft Point, located just west of Glacier Point, is known for its stunning views and lack of guard rail. In fact, this lack of a guard rail can make taking pictures at Taft Point extra fun – and dangerous. Take care of yourself when visiting this beautiful cliff. The trail to reach Taft Point is a relatively easy hike, so this trail is popular as well. Act responsibly, and you'll be glad you went.
24. Vernal Fall
Vernal Fall is one of the more powerful falls at Yosemite, and unlike Bridalveil and Yosemite Fall, Vernal Fall can't be viewed in a vehicle when you're on the valley floor. Want to see Vernal Fall? You're going to have to work for it. Of course, the visit will be rewarding! Vernal Fall is awe-inspiring, but be sure to bring plenty of water and proper hiking gear. The trail can be physically challenging and slippery at certain times of year.
25. Tioga Road Drive
Tioga Road Drive is a 47-mile long road that passes some of the most beautiful views in Yosemite. In summertime, Tioga Road is the place to be. Drive up to an elevation of almost 10,000 feet and pass landmarks like Tenaya Lake, Olmstead Point, Tuolumne Meadows and other well-known features of Yosemite. You'll have plenty of places to pull out and snap pictures. Remember to take your camera and be prepared to take a meandering pace.
26. Lembert Dome
Lembert Dome's elevation at 9,450, and its position over Tuolumne Meadows, makes it a popular destination for hikers in search of breathtaking views. The hike to Lembert Dome gains about 850 feet of elevation over the course of a 3.4 round-trip trail. The hike itself is rated as moderately strenuous, but this dome is considered one of the most easily accessed summits in Yosemite. The best time to visit is likely June, when the Meadows below are still green and the wildflowers are blooming.
27. Hot Air Balloon Rides with Sky Drifters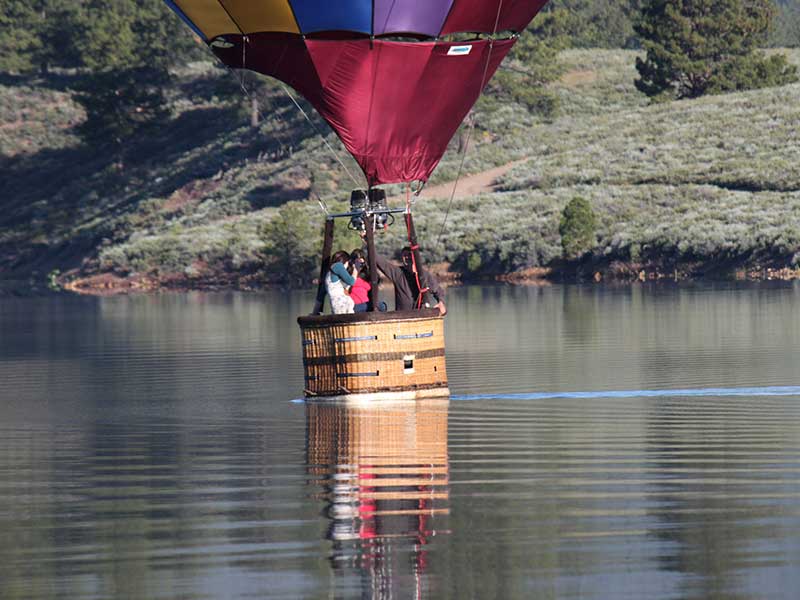 Just an hour from Yosemite is the hot air balloon company Sky Drifters. Known for providing personal attention, catering to small groups and going boldly over some of the most beautiful landscape in the area, Sky Drifters will take you over the Sierra Nevada foothills for a ride you won't forget. They provide private charter flights, and even can accommodate proposals and weddings, if you're ready to pop the question. Enjoy your flight with a pilot who can tell stories and jokes as you drift high in the air.