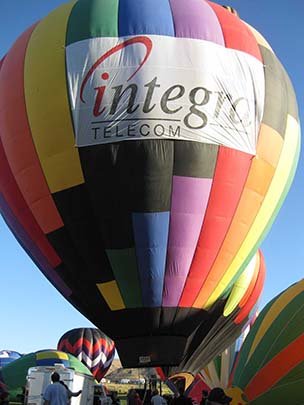 Aerial Advertising Opportunities
From small and simple to large and complex we can provide anything from banners to balloons with custom artwork or even balloons built in special shapes! Hot air balloons provide a level of visibility that is both unique and memorable. Many companies sponsor balloons to fly at festivals and special events on a full time basis. Think of Remax Realty and you think of a balloon…
Many wineries, and several other companies in Temecula, and Napa Valley, have purchased custom balloons and placed large advertising banners on them. Hot air balloons have proven to be a great way to advertise a companies name. In fact, for the visibility, they are an unequaled value!
Unlike Temecula or Napa Valley, we will only have two balloons flying in the Sacramento area and they are the only two balloons flying. Our balloons are endlessly photographed and talked about often, making them the perfect advertising option for any business or special event!
With thousands of tourists and countless people driving through the Sacramento area, the opportunity to get your company's name out in such a unique way is not only limited in availability, it is exclusive in nature.
We currently offer several different advertising packages custom tailored to meet the needs of our customers. Please contact us to discuss what advertising option is best for you and your business.
We are also fully insured and can add your company to our policy if requested.