Affordable Hot Air Balloon Rides in the Sacramento Valley of California
If you've always dreamed of flying in a hot air balloon, Sky Drifters Hot Air Ballooning group rides are a great and affordable way to experience the tranquility and splendor of flying high above the Sacramento Valley.
What is a Group Hot Air Balloon Ride?

In a group hot air balloon ride you'll share your flight experience with the pilot and up to eight other passengers.  To cover the costs of flying the balloon, we require at least four passengers. IF you are just two people we can usually provide the extra passengers.  When booking a flight as a single passenger, you'll need to pick a day when other passengers are also booked to ensure you get to fly on the day you choose (weather permitting.)  If you are local to the area and are flexible, we also offer a stand-by flight option.
What to Expect in a Group Hot Air Balloon Ride
Unlike your typical "romantic" flight where the pilot tries to be seen or heard as little as possible, group rides are all about sharing in the fun. The pilot is full of good flying stories, jokes, and is there to ensure everyone has a good time.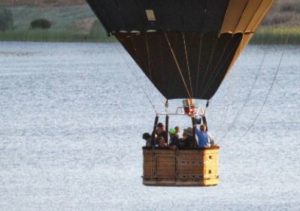 All balloon flights occur when the wind tends to be the calmest either at sunrise, or an hour before sunset.  Everyone will meet at the launch site where you will be prepped for the flight and watch the crew as they prepare the balloon for lift-off.
As you get in the basket and as the balloon lifts-off, our crew will take plenty of photos to memorialize your flight.  From the air you'll enjoy amazing views of the surrounding country side and you may even see some local wildlife: mountain lions and bobcats and eagles, oh my!  If you are lucky and the wind takes the balloon over a river, pond or lake, be sure to pick your feet up as your pilot does a quick touch down for a splash and dash.
When the flight is over there is still more fun to come as you participate in a "special" celebration of your flight and enjoy a French champagne toast.
How Much Does a Hot Air Balloon Ride Cost?
Group hot air balloon rides are $275.00 per adult and $225.00 per child (under 13).  If you have your own group, be sure to check out our private hot air balloon rides option.  We need a minimum of four people to fly a shared basket.  If you book just two people on a day with eight empty slots there is a chance you will get cancelled or rescheduled.  We can usually find additional people to fly with you, however we can not guarantee it.

Weight limits - Single passengers that exceed 275lbs. and couples that exceed 450lbs. need to book an additional slot as balloons are weight sensitive and we may have to reduce our normal passenger capacity to accommodate you.  If your schedule is flexible please contact our office directly and we may be able to accommodate you at no additional charge.

Book a Group Hot Air Balloon Ride
For a truly unique and fun experience book your hot air balloon ride with us today.
Have questions?  Be sure to check out our Frequently Asked Questions page.  Or, call us at 916-244-4808.